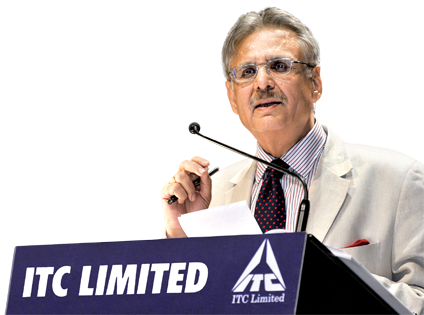 I have great pleasure in presenting ITC's Sustainability Report 2014.
With this edition, it is the 11th consecutive year of publishing an independently verified Sustainability Report. It is a matter of even greater satisfaction that this Report will be one of the first in India to be prepared in accordance with the new G4 guidelines of the Global Reporting Initiative (GRI), ahead of the transition deadline of 2015. The last ten years of conforming to the GRI guidelines at the highest levels of reporting has provided valuable insights in the pursuit of our journey to be an exemplar in sustainability practices.
I am also happy to once again reaffirm ITC's support to the principles of the United Nations Global Compact. It is indeed gratifying that the Company's social interventions are contributing meaningfully to the UN Millennium Development Goals.
ITC's sustainability journey has been challenging yet rewarding. Today it is indeed a matter of pride that the Company has been able to generate sustainable livelihood opportunities for around 6 million people. Relentless efforts to create benchmarks in environmental excellence have led the Company to achieve the unique global distinction of being Carbon Positive for 9 successive years, Water Positive for 12 consecutive years and Solid Waste Recycling Positive for the last 7 years.
These milestones reflect the tireless efforts in realising ITC's abiding Vision to put societal value creation at the heart of its business strategy. It is a reaffirmation of our belief that businesses must make sustainable and inclusive growth a cornerstone of its strategic framework. This conviction is premised on some stark realities confronting the world today. Tremendous advancements in science and technology as well as a growing consumer market have created unbounded business opportunities. However, it is an unassailable fact that the limits to future growth will emerge predominantly from the largely unaddressed societal challenges of widespread poverty and environmental degradation.
This realisation has inspired our Vision and commitment to sub-serve larger national priorities. A Vision that has also spurred innovation to build societal value by harnessing the transformational capacity, creativity and vitality of the organisation. It is ITC's resolve to shape a new dimension of corporate social action by simultaneously generating sustainable livelihoods and natural capital even as it pursues enduring wealth creation for its shareholders. This triple bottom line approach is at the foundation of the theme of this Report – "For All Our Tomorrows."