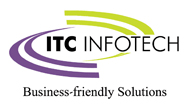 ITC Infotech is a specialized global technology services provider, led by Business and Technology Consulting. ITC Infotech's Digitaligence@work infuses technology with domain, data, design, and differentiated delivery to significantly enhance experience and efficiency, enabling our clients to differentiate and disrupt their business.
The company caters to enterprises in Supply Chain based industries (CPG, Retail, Manufacturing, Hi-Tech) and Services (Banking, Financial Services and Insurance, Healthcare, Airline, Hospitality) through a combination of traditional and newer business models, as a long-term sustainable partner.
In today's age of digital disruption, ITC Infotech has adopted a '5D' framework of excellence to serve its clients better:
DOMAIN Led: ITC Infotech's solutions & services are powered by deep Domain understanding and practitioner's expertise in focus industries
DATA : DATA Infra to Insights to Interventions, ITC Infotech enables clients to leverage the power of Data with actionable insights and prescriptive analytics
DIGITAL ready: ITC Infotech provides Digital solutions to help clients transform their business and enhance customer engagements
DESIGN expert: ITC Infotech provides UI/UX, high-end engineering design solutions and services to market-leading engineering organizations worldwide
DIFFERENTIATED Delivery: With excellence forming the corner stone of each engagement, ITC Infotech is committed to customized Delivery: Outcome-based, BOT, JVs, As-a-service and Subscription models
ITC Infotech is committed to consistently deliver enduring value on the 5D Framework through Digitaligence@Work. These have been designed to not only be the critical pillars in creating a compelling value proposition for clients, but also provide the company with a clear competitive advantage.