Ever since September 2007, Fiama has been providing gentle and effective care while pampering and keeping you refreshed throughout the day. The Fiama product portfolio has been developed by scientists at the ITC R&D Centre, leveraging the expertise of International product formulation specialists. Fiama products are for modern, aware customers who are confident of themselves and seek indulgences that make them feel alive, beautiful and young !!
Fiama Shower Gels and Gel
Bathing Bars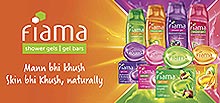 A Sensuous Bathing Experience meets Irresistibly Soft Skin with Fiama Shower Gels and Gel Bathing Bars.
They are enriched with Skin Conditioner with Moisture Lock giving you soft, moisturized and youthful skin round the clock.
Fiama Gel Bathing Bar is handcrafted using ITC's Innovative Liquid Crystal Freezing Technology, which freezes gel into a bar. Made up of exotic natural ingredients like Peach, Avocado, Seaweed and Lemon Grass, the Gel Bathing Bar is mild and gives you a long lasting fragrance which sees you through the day.
Fiama Shower Gels, yet another innovation from Laboratoire Naturel, with natural ingredients and irresistible fragrances gives you an unmatchable bathing experience.
Fiama Ashwagandha and Almond Cream
Fiama Brahma Kamalam and Almond Cream
Fiama Blackcurrant and Bearberry Shower Gel
Fiama Patchouli and Macadamia Shower Gel
Fiama Peach and Avocado Shower Gel
Fiama Lemongrass and Jojoba Shower Gel
Fiama Clear Springs
Bathing Bar
Fiama Exotic Dream
Bathing Bar
Fiama Mild Dew
Bathing Bar
Fiama La Fantasia
Bathing Bar
Fiama Men
Fiama Face and Body Talc