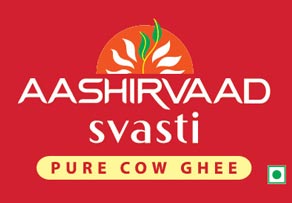 ITC entered the branded Atta market with the launch of Aashirvaad Atta in May 2002 and within a short span became the number one in branded packaged atta across the country.
'Aashirvaad' promises the Indian housewife the joy of providing her family with the most delightful home-made rotis, made from the finest quality atta. ITC uses the sourcing strength of its e-Choupals to buy wheat directly from the farmers to deliver happiness to the Indian consumer - Khusiyaan Chun chun ke ( Happiness Handpicked) - Ek Vaada Sacha Sa - Shudhata Aur Sampoornata ka ! (A True Promise of Purity and Wholesomeness. 'Aashirvaad' is made from finest quality wheat that ITC has the unique capability to source through its e-Choupal network.
Ghee
'Made from pure cow's milk, Aashirvaad Svasti Ghee is the first product from ITC's dairy portfolio. Manufactured at ITC's very own, state-of- the-art manufacturing facility in Munger (Bihar), Aashirvaad Svasti Ghee promises to deliver impeccable taste & consistent quality.
Furthermore, Aashirvaad Svasti Ghee is made using a special 'SloCook' process that enhances its natural aroma, giving it a distinct flavor profile. With its wonderful aroma, rich granular texture and consistent quality, Aashirvaad Svasti Ghee lends itself beautifully to varied Indian cuisines, making it a must-have in every household.
Packed in convenient pack formats - Uniquely shaped PET jars, CEKA packs & refill pouches, Aashirvaad Svasti Ghee is available in different pack sizes.
Currently, Aashirvaad Svasti Ghee is available in the markets of Tamil Nadu, Puducherry, Karnataka, Kerala and Delhi (including NCR).'
Aashirvaad Svasti Ghee
Staples
Aashirvaad Sugar Release Control Atta
Aashirvaad Whole Wheat Atta
Aashirvaad Select
Aashirvaad Atta with
Multigrains
Aashirvaad Salt
Aashirvaad Fortified Atta
Spices
ITC forayed into the branded spices market with the launch of Aashirvaad Spices in May 2005. The offering currently consists of Chilli, Turmeric and Coriander powder in SKUs of 50g, 100g, 200g and 500g each. Aashirvaad Spices, operating in selected markets of south and east, have spread to a large consumer base and have emerged as a major player in basic spices in most regional markets.
Aashirvaad Chilli Powder
Aashirvaad Premium Mirch Powder
Aashirvaad Coriander Powder
Aashirvaad Turmeric Powder
Aashirvaad Jeera Powder
Instant Mixes
Convenience and authentic taste now has a new name with the Aashirvaad Instant Mix range. This range, launched in March '06, now includes Gulab Jamun, Rava Idli, Rice Idli and Rice Dosa. Aashirvaad Instant Mixes promise the discerning Indian homemaker perfect tasting dishes, consistently. The Rava idli Mix is available in 500g pack and rest of the products are available in 200g packs.
Aashirvaad Instant Mixes