ITC's cigarette business stands testimony to the company's unwavering and unrivalled commitment to quality, innovation and consumer focus.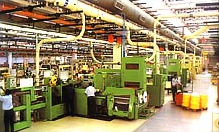 With more than one hundred years of expertise in developing products to match the evolving taste of the consumers, ITC's cigarette business continues to be relentless in its pursuit of strengthening its leadership position in every segment of the market in India. ITC's wide range of brands, includes Insignia, India Kings, Classic, Gold Flake, American Club, Navy Cut, Players, Scissors, Capstan, Berkeley, Bristol, Flake, Silk Cut, Duke & Royal.
The Company has been able to consolidate its leadership position with single minded focus on continuous value creation for consumers through significant investments in creating & bringing to market innovative product designs, maintaining consistent & superior quality, state-of-the-art manufacturing technology, & superior marketing and distribution. With consumers & consumer insights driving strategy, ITC has been able to fortify market standing in the long-term, by developing & delivering contemporary offers relevant to the changing attitudes & aspirations of the constantly evolving consumer.
ITC's cigarettes are manufactured in state-of-the-art factories at Bengaluru, Munger, Saharanpur, Kolkata and Pune, with cutting-edge technology & excellent work practices benchmarked to the best globally. An efficient supply chain & distribution network reaches India's popular brands across the length & breadth of the country.
In overseas markets, ITC's cigarette business continues to maintain high standards of international quality and competitiveness. West Asia is a key export region for ITC and we offer a wide portfolio of high quality cigarettes in this region. With a Portfolio of brands under the Classic, Wills and Scissors Umbrella, ITC has cemented its international standing being the 3rd largest player in the countries of Bahrain & Qatar. ITC was also the first company to introduce a flavor on demand (capsule) product in the economy industry segment in West Asia region.
ITC's Cigarettes business has been winning numerous awards for its quality, environmental management systems and product excellence: